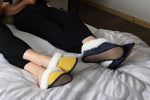 Slippers are essential indoor footwear for feeling at home, especially in cold weather! They keep your feet warm, while offering incomparable comfort to everyone who slips them on. But how do you choose a pair of slippers from the wide variety available? What criteria should you consider when choosing the perfect pair of slippers? Here are a few tips to help you make the right choice.
Consider Your Needs
When choosing the perfect pair of slippers for women or men, you first need to determine what you will use them for. There are different models for different uses in different seasons. For example, if you're looking for slippers for winter, we'd recommend a warm, cozy model like charentaises slippers or sheepskin wool slippers. You can also opt for a shin hugger slipper. This model is ideal for those whose feet are always cold, as it covers the entire ankle for maximum warmth. If, on the other hand, you're looking for summer slippers, we recommend a lighter, more breathable model, such as an ultralight mule slipper or soft microfiber slipper. If you're looking for slippers that will take you out into the yard, we'd suggest something a little more sturdy and water-resistant, such as EVA outsole slippers or slippers with non-slip soles.
Material Matters
The material the slippers are made of is an essential feature for your comfort and well-being. The slippers should be soft and pleasant to the touch. Choose natural materials over synthetics, such as wool, cotton and leather. These materials adapt better to your feet's natural perspiration by regulating their temperature. Your feet will remain dry and warm as long as you wear them.

The materials selected by the manufacturer must be high quality and durable to withstand wear, washing and deformation. However, it should also be just soft enough to mold to your feet. For example, sheep's wool from New Zealand and Australia are renowned for its unmatched sheen and fur density, offering the perfect balance of style, lightness, comfort and durability. The same goes for natural leather, which is known for its suppleness and durability! Trust the expertise of our well-established craftspeople when it comes to selecting the right materials for your comfort.
Arch Support and Comfort
Support and comfort are also important when choosing a good pair of slippers. After a long day of work or sports activities, your feet deserve to be pampered. That's why you need slippers with good cushioning, stability and an ergonomic fit. 
For example, make sure the sole is soft, thick and non-slip to absorb shocks and prevent slipping. It also depends on the type of floor you have. If it's carpeted or tiled, for example, your needs will be different. The slipper must also support the arch of the foot, following the curve of your foot to provide good support. Like the heel, it needs to provide the right support—all while avoiding chafing and irritation.
Sizing and Fit
Make sure you choose the right size, neither too big nor too tight. Some materials, however, such as sheep's wool, will feel very snug on a first try, even if it's your usual size. Note that this type of material will gradually mold to your foot, giving it a little more room.
Durability and Maintenance
Care should be one of the key criteria when selecting your pair of slippers. This will not only have an impact on the hygiene of your feet, but also on the lifespan of your pair. Your slippers need to be cleaned regularly to avoid stains, odors and bacteria. That's why you need to choose slippers that are easy to care for and washer-resistant. If some parts are removable, like the insole for slippers that can be changed as needed is a plus. Take the time to read the manufacturer's label. It will give you a good idea of the material composition, washing, drying and ironing instructions. Follow the instructions carefully to avoid damaging your slippers. You can also refer to our care guide for our sheepskin products.
Style and Design
Style and design are secondary criteria in the choice of slipper, but needless to say, you'll want slippers that appeal to you and reflect your personality. Some will favor classic, elegant, timeless and refined slippers, like lazybone slippers, while others will prefer something brighter, more colorful, original and extravagant, like bootie slippers. And why not simply match it with your favorite pajamas?
With these tips, you'll know which criteria to look for when choosing your slippers for optimum comfort. Take a look at our women's, men's and children's slipper collections, which offer a wide variety of models and colors, so that everyone can find the perfect pair to suit their tastes, habits and needs. Our adult collections also offer some models with an EVA option, a version of the sole that is thicker and stiffer than our standard soles to provide extra support for the feet. Now go out and find a pair of slippers that suits you, that you like and that feel good!
Sources: